Agrocreta Extra Virgin Olive Oil Bottle
$10.00
Agrocreta Extra Virgin Olive Oil Bottle contains hand-picked Koroneiki & Tsounati olive varieties, with a mild & balanced flavour ideal for salads cooking & marinating
Out of stock
Description
Agrocreta Extra Virgin Olive Oil Bottle from the island of Crete
Agrocreta Extra Virgin Olive Oil Bottle contains Agrocreta's flagship product and has made its name in the world markets throughout the years, for its high levels of quality. A genuine, unadulterated product from family farms produced and packed according to strict quality assurance practices. Agro Creta wants to give you the chance to taste the real olive oil as it was made by their ancestors. Agrocreta Extra Virgin Olive Oil Bottle contains the pure juice of the olive fruit in a bottle that is made with care and love for what they do. Hand-picked Koroneiki & Tsounati olive varieties, with a mild & balanced flavour ideal for salads, cooking & marinating.
Size:
500ml Bottle
Ingredients:
Hand-picked Koroneiki & Tsounati olive varieties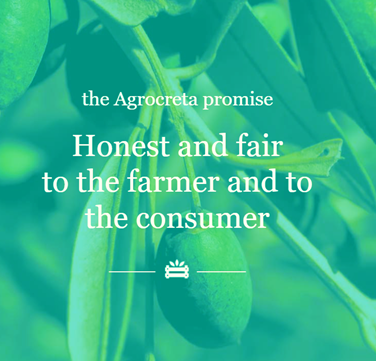 THE AGROCRETA STORY SO FAR… Twenty years of freshness
Agrocreta is a producer, packer and exporter of agricultural products from the island of Crete, Greece. We have been one of the main export companies from Western Crete, for the past 20 years, enjoying stable growth in terms of volumes and export sales turnover, while working with major retail chain accounts and wholesalers around the world.
We are the only company in Crete that has the capacity to supply both fresh and standardized products. Our assortment is continuously developing. It currently ranges from fresh avocados and oranges to olive oil, all produced in-house and at the highest standards!
We take quality very seriously!
Agrocreta® has developed strict quality guidelines to ensure that the products that come to your table are safe and at the highest level of sensory attributes, such as taste and aroma.
We are a family business and feel this is our duty. If our kids can consume our products then they are safe to be consumed by you.
At Agrocreta® we are…
Open to our farmer: We know personally all the farmers who have joined our team effort. We communicate with them on a frequent basis and try to enlighten them with our vision, which is to help these simple, pure, natural delicacies reach the position that they deserve in the world markets. Close to home: All our lives, we have been living with our family within walking distance from the farms where our produce is grown. Beyond the statistics and the financial figures, the bottom line for us is to achieve a gradually improved, sustainable way of living for our children and the next generations. This alone is the most credible quality promise one can give!