Krinos Cow and Goat Feta
$52.40
Krinos Cow and Goat Feta is an incredibly versatile cheese that can be served as a table cheese, used in baking savory dishes, or served as an appetizer or in salads.
Description
Krinos Cow and Goat Feta is prepared and aged using traditional methods, Krinos' Cow & Goat Milk Feta is perfect for crumbling over fresh salads, pasta, and cooked dishes. The combination of cow and goat milk creates a feta cheese that is low in cholesterol and low in saturated fats. Krinos Cow and Goat Feta is gluten and sulfite free.
Feta Cheese is a staple in Greek cuisine and many dishes throughout the world. Feta is the perfect salty addition to your salad, olive, tomato, and green vegetable recipes; it pairs well with everything from roasted peppers, beets, and carrots to fresh watermelon. Add to pizza, drizzle with olive oil and eat on a baguette, or eat it with beer for the perfect burst of Grecian flavor. Use it to top a traditional Greek salad, mouthwatering spanakopita, or combined with fresh tomato and basil atop a piping hot pizza
Ingredients:
Pasteurized fresh cow and goat's milk, Calcium chloride, Microbial enzyme, Bacterial culture, and Sea salt.
Contains: Milk.
Size:
3 Kg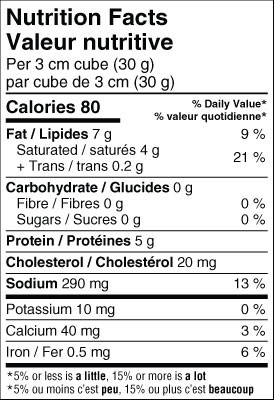 Krinos Foods LLC is North America's largest importer, distributor, and manufacturer of Greek, Turkish, and Eastern European specialty foods with plants in New York, Atlanta, Chicago, Montreal, Toronto, and Vancouver.
We import and manufacture over 1,000 frozen, refrigerated and dry foods including cheeses, olives, olive oil, pasta, peppers, meats, and confectionery. We also import a variety of beverages including coffees, teas, juices, mineral waters, sodas, and nectars.
In addition to our Krinos label, we represent many well-known brands including Apollo, Athens, Attiki, Haitoglou, Hermes, Horio, Jotis, Koska, Kras, Macedonian, Marco Polo, Melissa, Minerva, Saradis, Tahsildaroglu, and Zanae. We distribute our products to supermarkets, gourmet stores, ethnic markets, hotels, restaurants, and other food service establishments across the US and Canada.
While most of our products are prepared in state-of-the-art, SQF-certified facilities using highly automated techniques, we are committed to maintaining the authenticity and homemade quality of certain traditional products. As a result, we produce select items by hand according to ageless culinary traditions.
Krinos Foods – the finest Mediterranean specialties for your table.
History
1977 ~ Toronto warehouse and packaging facility established in Vaughan, Ontario

1979 ~ Fillo production/sales begin out of the Toronto location

1991 ~ Acquisition of the #2 competitor – Sico Foods

2003 ~ Krinos Canada welcomes new president – Mr. Alexander Georgiadis

2005 ~ Krinos moves west with expansion to Vancouver warehousing facility

2008 ~ Canadian sheep and goat feta are introduced as a first in the Canadian market in partnership with Shepherd Gourmet Dairy

2009 ~ Purchase of new Montreal warehousing and packaging facility

2010 ~ Fillo Twisters products were introduced to the market in partnership with Akropolis Phyllo Products Inc. The product line is an instant success in Canada and is now exported & sold in the U.S.

2016 ~ Tiras Dairies in Alberta is acquired to expand production of Krinos cheese products